The Neuroethics Thrust is a part of the Center for Neurotechnology (CNT).  The National Science Foundation funded the CNT as an Engineering Research Center (ERC) in 2011 as a multi-institution center (UW, MIT, SDSU) dedicated to advancing research in neural engineering, particularly on developing bi-directional implantable brain-computer interface devices.  Neuroethics and members of the Department of Philosophy have been a part of the CNT since its inception.  Sara Goering has led the Neuroethics Thrust within the CNT since 2012.  Eran Klein, a neurologist and affiliate professor in the Department of Philosophy, joined the CNT in 2013 to help coordinate educational, research, and ethics engagement activities of the CNT.  Undergraduate, graduate, and post-doctoral students in the Philosophy Department have been key contributors to the Neuroethics Thrust.
Mission
The Neuroethics group studies ethical issues arising from emerging neural engineering technologies. Issues include questions of privacy, security, moral and legal responsibility, changes in our understanding of agency, shifts in personal identity, and social justice. We have a commitment to the inclusion of disability perspectives in the design of devices intended to benefit people with disabilities. Our group does both normative theoretical research and writing, and empirical studies such as focus groups with intended end-users.
Our work is constituted by three principal activities:
Our People
Core Faculty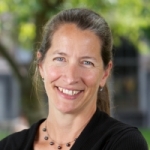 Sara Goering, Lead (UW Philosophy, CNT profile & research)
Sara Goering is Associate Professor of Philosophy at the University of Washington, Seattle, and directs the Neuroethics Thrust in the Center for Neurotechnology (CNT). She is also a member of the Program on Values in Society, the Disability Studies Program, and adjunct faculty in the Bioethics & Humanities Department. Her work in the Neuroethics Thrust focuses on issues of agency and identity in relation to neural technology (both DBS and BCI), and emphasizes the importance of engagement with disabled people, who are often the intended end-users of the technology.
Eran Klein (UW Philosophy, CNT profile & research)
Eran Klein is a neurologist at the Portland VA Medical Center and the Oregon Health and Science University, and an affiliate professor in UW Department of Philosophy and core faculty within the Neuroethics Thrust.  His work within the Neuroethics Thrust focuses on issues of informed consent, agency, the patient-clinician relationship, and privacy in deep brain stimulation and brain-computer interface technology.
Judy Illes (UBC, CNT profile & research)
Judy Illes is Professor of Neurology and Canada Research Chair in Neuroethics at the University of British Columbia, Director of the National Core for Neuroethics at UBC, affiliate appointment in the Department of Computer Science and Engineering at the University of Washington and has been an advisor to the Center for Neurotechnology (CNT) since its inception.  Dr. Illes' research focuses on ethical, legal, social and policy challenges specifically at the intersection of the neurosciences and biomedical ethics. This includes studies in the areas of incidental findings and functional neuroimaging in basic and clinical research, addiction neuroethics, stem cells and regenerative medicine, dementia, neurodevelopmental disorders, and the commercialization of cognitive neuroscience.
Joseph Stramondo (SDSU) (CNT profile)
Joseph Stramondo is an Assistant Professor of Philosophy and Associate Director of the Institute for Ethics and Public Affairs at San Diego State University, as well as core faculty for the Neuroethics Thrust. His research is located at the intersection of bioethics and philosophy of disability, with his current project for the Neuroethics Thrust being a conceptual analysis of the distinction between curative and assistive technology, using BCI as a hard test case.
Scientist Fellow
Frédéric Gilbert (UW Philosophy / University of Tasmania)
Frederic Gilbert, PhD, is a philosopher conducting research on the ethical issues raised by novel implantable neurotechnologies, in particular experimental use of Brain Computer Interfaces (BCI).  
Graduate Students
Timothy Brown (UW Philosophy)
Tim Brown is a PhD student in the Department of Philosophy and a Research Assistant in the UW Biorobotics lab under Dr. Howard Chizeck. His research focuses on the experiences of people using deep brain stimulation, brain computer interfaces, and other neural technologies. In particular, his work explores the issues of personal autonomy, identity, and security that can arise as people learn to incorporate neural technologies into their lives.
Michelle Pham (UW Philosophy)
Michelle Pham is a PhD candidate within the UW Department of Philosophy.  Her dissertation focuses on the different roles of consensus in science, and it's implications in the public sphere. She's been a CNT Neuroethics Fellow for two years. Her work within the CNT has focused on researcher-end user relationships and development of social and ethical guidelines in neural engineering.
Paul Tubig (UW Philosophy)
Paul Tubig is a PhD student in the Department of Philosophy.  His general research is in social philosophy, political philosophy and biomedical ethics - with a special interest in questions of justice related to public health.  As a CNT fellow, Paul is working to develop tools to facilitate ethics engagement between neural engineers and non-scientists.
Marion Boulicault (MIT)
Marion Boulicault is a PhD student in the Department of Linguistics and Philosophy at MIT. Before coming to MIT, she worked for a number of years in environmental policy and completed a Master's degree in the History and Philosophy of Science at the University of Cambridge. Her research draws on work in feminist theory, disability studies, science and technology studies, and analytic philosophy of science to explore the role of values and perspectives in the creation of scientific knowledge.
Erika Versalovic (UW Philosophy)
Former members of the Neuroethics Thrust
Raney Folland
Alicia Intriago
Melissa Liu
Matthew Sample
Laura Specker Sullivan
Anjali Truitt
Current and former undergraduate students
Jenan Alsarraf
Sami Ayele
Hannah Earhart
Alex Franke
Hannah Martens
Christopher Pham
Sierra Simmerman
Hale Soloff
Ian Stevens