Submitted by Britta M. Anson on
Congratulations to Department of Philosophy PhD Candidate, Jon Rosenberg, on receiving the highly competitive Excellence in Teaching Award for 2016! Jon was presented with his award by Provost Gerald Baldasty at the 46th Annual Awards of Excellence on June 9, 2016 in Meany Hall. 
This award, created by The Center for Teaching and Learning to honor the contributions of graduate student instructors to the scholarship of teaching and learning, is one of the highest teaching recognitions at the University of Washington. Jon is one of two graduate student nominees selected from across campus to receive the distinction this year.
As Jon's colleagues in the Department of Philosophy, we are thrilled that his long-time dedication to teaching and learning, as well as his generosity as a mentor and colleague, are being recognized by the wider campus community.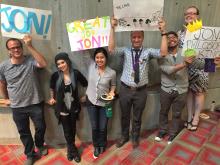 Jon has done consistently excellent work in both the classroom and the larger Department community.  He has served as a teaching assistant in countless courses and has taught many of his own as well. As the Department of Philosophy's Teaching and Learning Coordinator for 2015-2016, Jon co-led two seminar courses on teaching for incoming graduate students, helping them develop their pedagogical acumen and practical skills in the classroom. As Director of the UW Philosophy Writing Center, Jon works with our undergraduates to improve their paper-writing skills and mentors our undergraduate writing tutors, helping them learn how to teach philosophical writing. In addition, Jon has designed and led several workshops on teaching philosophy for the Department facilitating discussion about teaching and learning between graduate students and faculty. We are very lucky to have him in the Department.