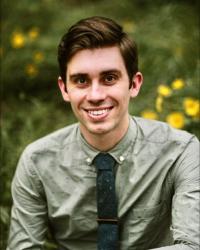 Contact Information
Office Hours:
Spring Quarter: Fridays from 10:20-11:20 and 1:20-2:20 (SAV 3rd floor, Big Table)
Biography
M.A., Philosophy, University of Washington, 2011
PhD, Philosophy, University of Washington, 2022
In May 2022 I defended my dissertation, "Immigration in a Global Economy: Why the Left Should Embrace Open Borders" and will be starting a postdoctoral fellowship in the McCoy Family Center for Ethics in Society at Stanford University. My research broadly focused on questions of socioeconomic class, economic justice, and immigration. For more information, see my website: https://www.michaelball-blakely.com  
Recent and Upcoming Presentations and Commentaries 
Commentary on (TBD) during the Symposium on Relational Equality and Vulnerability at the 2022 Pacific APA.
"Transnational Capitalism and Feudal Privilege: Open Borders as a Tool for Non-Domination" at the Pacific APA (online), April 2021. 
Commentary on "Who is Responsible for the Climate Change Problem" by Megan Blomfield at the Ben Rabinowitz Environmental Ethics Workshop (online), February 2021.
"Realism as Utopia: Reimagining Ideal Theory and Economic Justice in the Law of Peoples" at the MANCEPT Workshop in Political Theory, September 2019. 
"Skill-Selection and Socioeconomic Status: An Analysis of Immigration and Domestic Economic Justice" at the Eastern APA (online), January 2021. 
Awards and Honors
2020-2021 UW Philosophy Graduate Teaching Award
2020-21 Joff Hanauer Excellence in Western Civilization Graduate Fellow
2018 John Hardwig Prize for Teaching Excellence
2018 Prados Summer Dissertation Award
2014-2018 University of Tennessee Chancellor's Fellowship
2018 University of Tennessee Richard Aquila Graduate Essay Contest, 2nd Place
Departmental Service 
UW Philosophy Department Writing Center Graduate Supervisor (2021-2022)

Scheduled writing center hours for several undergraduate tutors; logged writing center activities; tutored students in philosophical writing

Program on Ethics (PoE) Research Assistant (2020-2021)

Conducted independent research for faculty projects; facilitated zoom talks; compiled the yearly PoE Newsletter; and attended PoE meetings, taking minutes.

UW Philosophy Department Writing Center Graduate Supervisor (2019-2020)
UTK Graduate Student Faculty Representative 2018
1st Annual University of Tennessee Graduate Student Conference "Justice Across Borders" (2018)

Wrote the Conference CFP; invited keynote speakers; reviewed submissions

UTK Graduate Student Faculty Representative 2015
Professional Affiliations:
American Philosophical Association